NORWEGIAN SEASCAPES CONTEST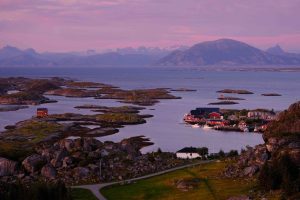 Norwegian seascape depicting the coastal community of Lovund in the Vega Archipelago.        Photo: Mimi E. Lam
The sea represents different values to different people. The project "Managing Ethical Norwegian Seascape Activities," funded by the Research Council of Norway, is capturing what the sea means to Norwegians. We aim to integrate the diverse sea-based values and identities of Norwegian citizens and stakeholders into future sustainable and equitable management of Norway´s oceans.
Be part of the national conversation! Express your unique sea-related values and identity using a photo with caption and short accompanying text (e.g., poem or prose) that captures what the sea means to you. Write a poem or prose for a photo that you have taken or take a photo to illustrate a piece of your writing and share your sea inspirations with us and your fellow Norwegians!
Judges will select the 100 most evocative and compelling submissions for inclusion in a coffee table book showcasing diverse Norwegian seascapes and their unique values. Winning entrants will receive a copy of the book and the top 3 also will receive special recognition and Hurtigurten gift cards in these denominations: 10,000 kr (1st prize); 5000 kr (2nd prize); and 2000 kr (3rd prize).
Norwegian Seascapes Contest
What does the sea mean to you? 
Convey with an original photo and prose or poetry what the sea means to you. Write your text to accompany your depicted Norwegian seascape.
Submission Requirements:
Photo: jpg format, 300 dpi resolution
Caption: 10 words maximum (in bokmål or Nynorsk and English)
Prose: 100 words maximum (in bokmål, Nynorsk, or English) in any format, e.g., prose or poetry
With your entry, you retain your copyright, but are asked to give the MENSA project permission to use your submission for research and dissemination purposes.
Maximum 3 entries.
Please also answer the following 3 questions: 
What feelings does your depicted seascape evoke in you?
What values do you associate with your depicted seascape?
Name the 3 most important values to you related to the sea?
To enter the contest, use this participant link.
Please note that taking part in this contest entails participation in the MENSA research project, funded by the Research Council of Norway (#303663). Thus we need your consent. If you want to participate in the contest, please read, sign, and upload the consent form below with your entry. 
Download and read this consent form.
If you have any questions, please contact MENSA project leader Dr Mimi E. Lam (mimi.lam@uib.no, +47 484 04 622).
Rolling Deadline: Submissions accepted until top 100 photos with text have been selected.